OBD II APPLICATIONS GUIDE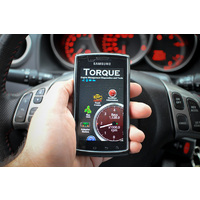 How OBD-II has changed how we manage and drive our cars
Since the introduction of OBD-II in cars, owning or driving a car has become a whole new experience. If your car is OBD-II compatible, you can access and monitor a valuable source of information from your car's engine control unit (ECU).
You can diagnose your car and know why your engine light is on and turn it off. You can also monitor and record fuel economy data, mileage and costs. Use accurate fuel consumption gauges to improve eco-driving or monitor many other parameters from coolant, fluid and transmission temperature to boost, oxygen sensors and manifold pressure. And many more!
As a car owner, parent or employer think of how such information can help you maintain a roadworthy car and save fuel, time and money!
Whether you drive a family car, a ute or a towing truck, there are many great ways to manage your vehicle. Here are some applications for OBD-II data.
Diagnose Trouble Codes
Hand-held diagnostic scan tools or code readers come in variety of features and functions. Starting from simple engine fault code reader to more advanced scan tools capable of diagnosing more systems on your car such as ABS, SRS, Transmission etc. They also come with features like oil service reset, EPB, DPF and SAS calibration.
Shop Scan Tools For Single Car >
Gauges & Trip Computers
OBD-II has allowed drivers to minimise the number of gauges installed on their cars by installing fewer gauges connected to their car's ECU. Data from the OBD is faster and more accurate. It allows access to the full range of vehicles derived data such as fuel economy, RPM, speed, transmission temperature among many more.
Shop Car OBDII Gauges & Trip Computers >
Smartphone Scan Tools
Smartphone plug-and-play OBD-II scanners can be connected through WiFi or Bluetooth to your devices. Using appropriate app, you can use your iPhone, iPad or Android device as an auto multi-gauge and diagnostic scan tool!
Shop Smartphone OBDII Scanners >
Data Loggers
Another great way to use your car's OBD-II data is to capture and save vehicle's data for later analysis. Using proper scanners, you can review your last trips log book by displaying information such as average speed, fuel consumption, cost, route map etc
OBD-II Telematics
Fuel is considered one of highest operating cost to any fleet. Using telematics OBD-II tools is the new way to monitor all driver's driving behaviour, engine parameters data and also be able to know about any fault code once it happens and before it turns into an expensive problem.
Need advice on most suitable product for you? Contact us today to get our expert advice.