Description
Autohil AX2 is a simple and easy to use OBDII Bluetooth car scanner that can help you connect to your vehicle's data using your Android and Windows smart devices. You can diagnose engine trouble codes and know why CHECK ENGINE light is on. You can also customise real-time fuel economy and performance gauges and log engine, trip and fuel data. Autohil AX2 scanner helps you connect to heaps of OBDII Apps available on Google Store giving you more choices on how to use. Simply connect the scanner to OBDII port and pair with your preferred App(s) or Software.
Use Your Smartphone To Get Engine Trouble Codes, Performance Gauges And Live Sensor Data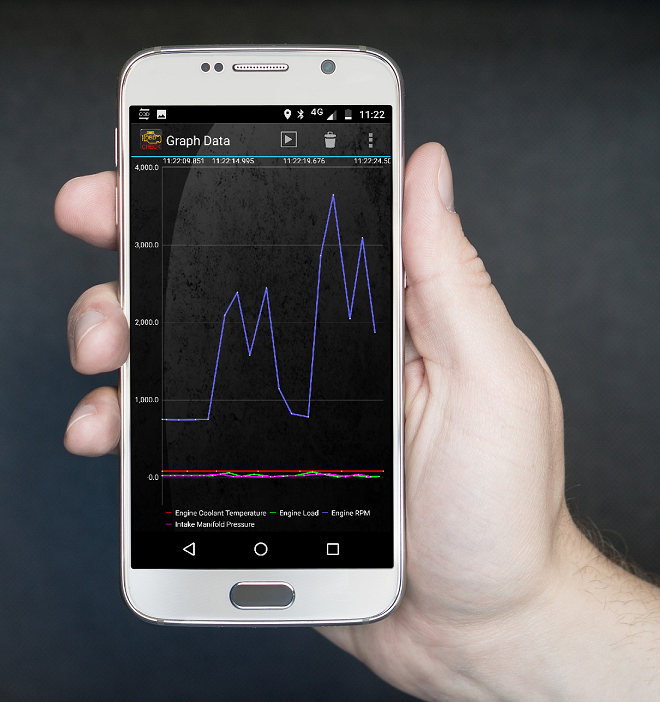 *picture from TORQUE PRO app
Scanner Benefits
With this simple and easy to use Bluetooth scan tool, you can reliably diagnose engine problems and monitor your car's real-time performance data using your Android devices.
This scanner will help you:
Improve your eco-driving with real-time fuel economy data
Customise a number of OBD-II performance gauges with the type of data you want
Diagnose your car and discover why your engine light is on and turn it off
---
Torque Performance App
Torque is a vehicle / car performance / diagnostics tool and scanner that uses an OBD II Bluetooth adapter to connect to your OBD2 engine management / ECU
Customise your own dashboard with the widgets / gauges you want!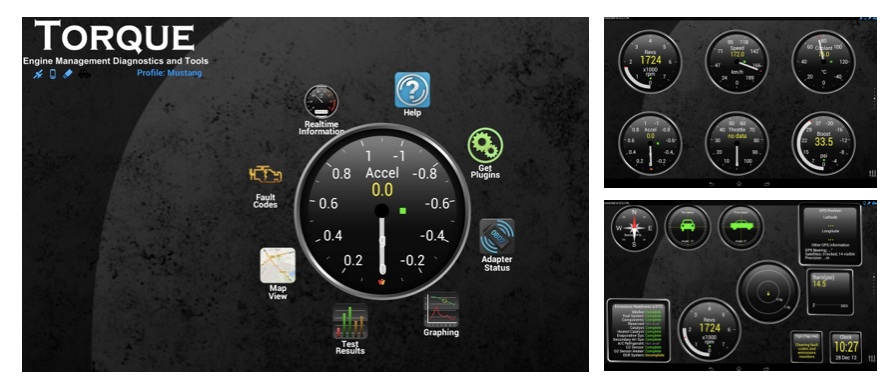 Note: App sold separately from Google Play store. Functions and gauges is car dependent and differ from one App to another.
Real-Time Performance Gauges On Your Smartphone
Pair your AX2 Bluetooth Scan Tool to your preferred performance App and see what your car is doing in real-time: get OBD2 fault codes, car performance gauges, live sensor data and more! Real-time performance data include:
| | | |
| --- | --- | --- |
| Engine RPM | Calculated Load Value | Coolant Temperature |
| Fuel System Status | Vehicle Speed | Short Term Fuel Trim |
| Long Term Fuel | Trim Intake Manifold | Pressure Timing Advance |
| Intake Air Temperature | Air Flow Rate | Absolute Throttle Position |
| Oxygen sensor voltages | Fuel System status | Fuel Pressure |
| Fuel Consumption | Trip data | Many others |
*OBDII sensor gauges are vehicle dependent.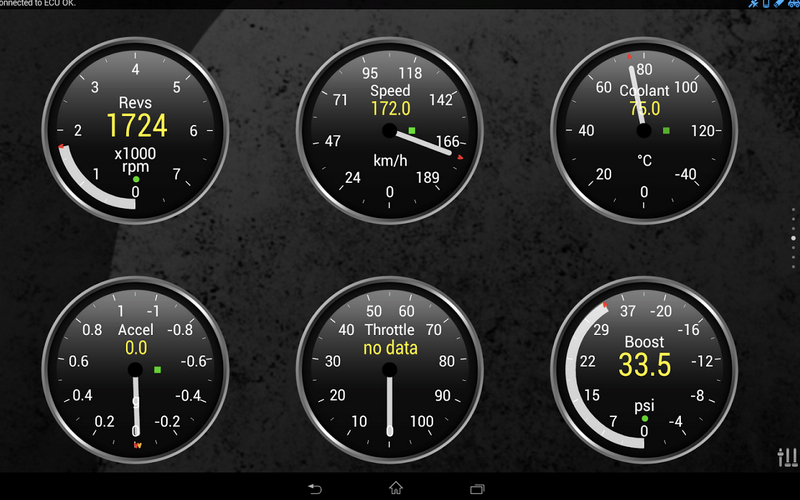 Diagnose Engine Trouble Codes DTCs
Get engine trouble code & its'meanings right on your smartphone's screen. Know why your engine light is on and turn it off.
[Reads & Clear DTCs]: Read Engine diagnostic trouble codes DTC and provide both the code and its' meaning and clear them
[Engine Live Data]: Customise and monitor real-time engine parameters.
[Freeze Frame Data]: Recorded system parameters values at the time when engine malfunction first occurred
[Readiness test]: Test and check status of engine emission control systems
[VIN]: Read vehicle info such as Vehicle Identification Number VIN, Calibration IDs CALID and Calibration Verification Number CVN
*Most Apps can only diagnose (read & clear) generic engine fault codes.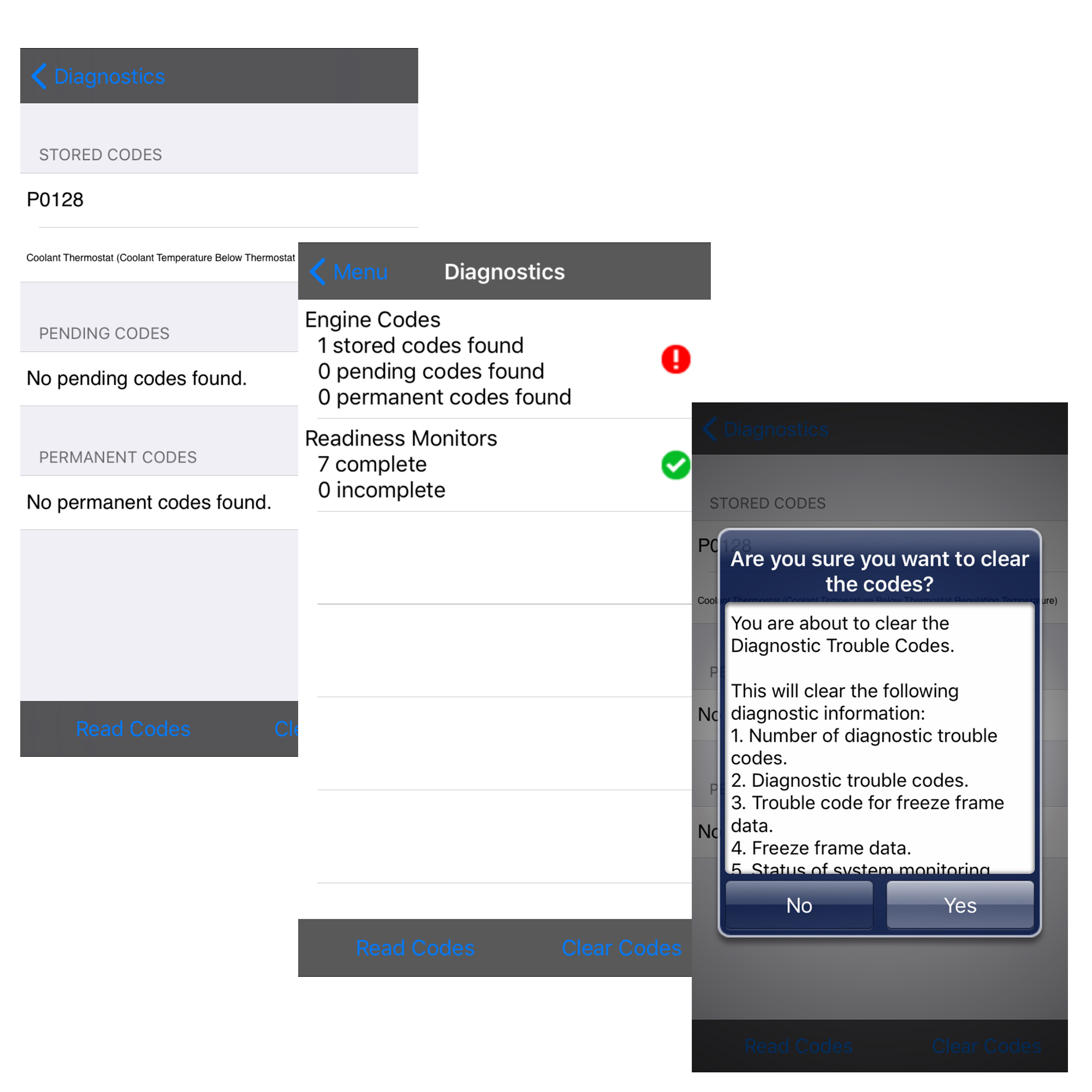 ---
Easy To Setup Scan Tool
Plug the bluetooth scan tool into your vehicle's OBD-II port and pair with a performance App of your choice. We recommend TORQUE for Android.
Click here to see the ELM327 Installation Guidelines
Specifications
2018 upgraded 25K80 Chip for faster more reliable readings
Communication : Bluetooth 2.0
Control Chip: PICI8F25K80
Supported Systems: Android / Windows
Operating Voltage: 9-16V
Working current:50mA
Standby current: 45mAH
Power Consumption: 0.75 Watts
Operating Temperature: -15 to 100
Dimmensions: Width 4.4cm Length 8cm Heigth 2.5cm
Compatible OBDII Protocols
ISO 9141-2 (5 baud init, 10.4 kbaud)
ISO 14230-4 KWP (5 baud init, 10.4 kbaud)
ISO 14230-4 KWP (fast init, 10.4 kbaud)
ISO 15765-4 CAN (11 bit ID, 500 kbaud)
ISO 15765-4 CAN (29 bit ID, 500 kbaud)
ISO 15765-4 CAN (11 bit ID, 250 kbaud)
ISO 15765-4 CAN (29 bit ID, 250 kbaud)
SAE J1850 PWM (Found on many Ford vehicles)
SAE J1850 VPW (Found on many GM vehicles)
Delivery & Returns
Delivery

99% of orders are dispatched from our Melbourne warehouse within 24 hours after payment is cleared. All orders are shipped with Australia Post e-Parcel with tracking and signature on delivery.
Express shipping is available at additional cost. For next day delivery, please ensure your postcode is within Australia post Next Day Delivery network.
Returns

We offer 30 days money back guarantee on all orders. If your item was purchased in error, or you've simply changed your mind, it may not be too late for a refund. The item must be returned in original re-saleable condition - Not opened, used or damaged and ready to be put back on the shelf.
Warranty

All products supplied by Fuel Economy Solutions Pty Ltd come with 12 months limited warranty unless otherwise specified. Warranty covers defects in materials and/or workmanship. If a defect arises and a valid claim is received, Fuel Economy Solutions Pty Ltd may at its option repair or replace the product.
Naturally the warranty cover does not extent to cover damage caused by normal wear and tear, accidents, misuse, lack of maintenance, neglect, natural disaster, or other external causes; to damage caused by operating the equipment in a manner outside that described in the instructions.
Reviews
Autohil AX2

By:

Karl

on 17 January 2019

Works well and lets me see what my engine is doing. Top quality!




(5)
OBD2 Bluetooth Scan tool

By:

Andrew Tuft

on 14 January 2019

Awesome product. Works like it should and very easy to use




(5)
Perfect.

By:

Luke

on 7 December 2018

Simple product, does everything you need it to. Solved the problem in my work van, not sure how I survived so long without one.




(5)
Great product

By:

Bushman

on 7 December 2018

Great product, as described. Very quick delivery and excellent communication.




(5)
OBD2

By:

Peter CALABY

on 7 December 2018

Good product.Does what its supposed to do well.




(4)
Autohil Bluetooth OBD2 Scan Tool

By:

Mr T

on 27 November 2018

Great product. Saved me heaps of money by providing me with correct fault codes.




(5)
Obd2

By:

Silvio

on 26 November 2018

Very happy with the obd2 and the service




(5)
Paid for itself

By:

Ross

on 13 November 2018

Didnt expect to have to lay additional money to get the app on my phone but at like 5$ i didnt mind too much. Got a basic fault code on my car a wk later and managed to scan, clear and fix the issue easily which meant this thing already paid for itself! Super simple to use for scanning and setup and give basic engine informarion. More info would be good such as boost pressure, fuel pressure etc but for the basic operator its perfect.




(4)
Autohil bluetooth

By:

Andrew

on 9 November 2018

ML Triton - works perfectly! Thanks very much.




(5)
Awesome!

By:

Hazza

on 9 November 2018

Awesome to deal with quick delivery works a treat on my Colorado Thanks.




(5)
OBDII

By:

Rick

on 8 November 2018

Great product happy with the ruslts. Would recommend




(5)
Autohil AX2 OBD2

By:

Ken Thornberry

on 27 October 2018

Easy to set and use makes maintenance quick and easy saves money on mechanics




(5)
Scanner

By:

Rachael Knight

on 25 October 2018

Did not work




(0)



www.fueleconomysolutions.com.au Response
If your vehicle is OBD2 compatible and still does not work your AX2 is under warranty so can be replaced. We are not able to locate any order or support inquiry under your name so please contact our support on support@fueleconomysolutions.com.au
Autohil AX2

By:

Andrew

on 27 September 2018

Excellent posted very quickly and works perfectly. Thank you.




(5)
Odbii

By:

Ken

on 12 September 2018

I bought this connector and works ok when it's connectd but sees constant drop outs every minute or two of the Bluetooth connection. Also the box of the connector is too large and hits the top of the brake pedal making it useless and unable to be used when driving




(1)



www.fueleconomysolutions.com.au Response
We are sorry to hear that. So far we have only been receiving positive feed back. on this unit. In regards to the connection - other bluetooth devices can interfere or if the vehicle is too old the OBD2 port might not be connecting properly. It might also be that the unit is faulty. You can always contact our support team (support@fueleconomysolutions.com.au) to see if that is something we can help with. In regards to the size - there are images on the product page which should help you visualize the unit as we believe the customers are familiar/ identified their OBD2 port location and size but also thanks to your feed back we have now added the unit's dimensions to the product page.
---
We Also Recommend
---
Others Also Bought
---
More From This Category