Description
The Scangauge-KR is a great way to scan commercial heavy diesel vehicles like trucks and buses that use J1939 and J1708 protocols. Works with most diesel vehicles that use 6 pins and 9 pins OBD port from 1990 onwards. It effectively monitors your vehicle and provides real-time information crucial to manage your vehicle. Incorporates well over 15 digital gauges, trip data consisting of 5 sets as well as a simple engine scan tool. Features include trip Profit/Loss real-time feedback specially designed for drivers who make income by the hour and by the KM to achieve the maximum amount of profit while driving.
Drive Smarter, Improve Fuel Economy & Increase Profits
The Profit/Loss feature built into ScanGauge-KR combines your reimbursement rate, fuel cost-per-gallon/litre and your actual fuel economy to give you direct feedback of your income-per-hour, while you drive. Now, you can see how adjusting your speed, gearing and other factors you control will effect your income-per-hour. The $PH gauge can be used to find the maximum income point for the current driving conditions.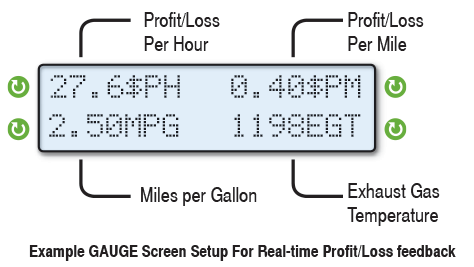 Digital Gauges
ScanGauge-KR provides real-time gauges to show you what is going on "under the hood" with more than 15 built-in digital gauges. The gauge screen allows you to select and display 4 gauges at a time, so you can monitor the current operating conditions of your vehicle in real-time.
CLSD LP / OPEN LP: Fuel System Loop Status
MAP: Manifold Absolute Pressure
BST: Boost
KPG / LHK / KPL / KPH: Fuel Economy & Consumption
RPM: Revolutions Per Minute
TPS: Throttle Position Sensor
FWT / CWT: Water Temperature
AVG: Average Fuel Economy
TFC: Trip Fuel Cost
CPM: Cost Per Mile
VLT: Battery Voltage
FIA / CIA: Intake Air Temperature
FPR: Fuel Pressure
GPH / LPH: Litres / Gallons Per Hour
IGN: Ignition Timing
LOD: Engine Loading
HPR: Horsepower
Auto Trip Computers
Five built-in trip computers keep track of everything from fuel cost to distance traveled and everything in between. The TRIP modes in the ScanGauge can be used to save fuel. Improved driving habits can improve fuel economy by up to 30%.
The ScanGauge-KR lets you try different driving techniques and routes and gives quick feedback on how they affect fuel use. TANK Trip which you reset when you fill up the tank. It can provide you with "to empty" data as well as other useful information.
Fuel Economy
Fuel Used and Cost
Maximum Coolant Temp
Distance
Maximum RPM
Drive Time
Maximum Speed
Average Speed
Total CO2
Current Tank of Fuel information : Distance to Empty / Time to Empty / Fuel to Empty
Diagnostic Scan Tool
ScanGauge-KR Can display Diagnostic trouble code, tells you how many there are and the Trouble Codes themselves. Data captured when the Trouble Code was set can be recalled to help troubleshoot the problems.
Reads and Clears Engine Trouble Codes
Shows Conditions When Trouble Was Detected (RPM, COOLANT, TEMP etc)
Turns Off "CHECK ENGINE" Lamp
Shows When Onboard Tests Have Been Completed And Vehicle Is Ready To Pass OBDII emissions Testing
Specifications
NON-VOLATILE MEMORY(stored information is not lost when disconnected)
User settings automatically saved
Up to 10 user commands can be stored and recalled
Today, Yesterday and Tank Trip data automatically saved
Vehicle settings automatically saved
EASY INSTALLATION
No Tools Required!
Cable detachable at the ScanGauge
Easily move from vehicle to vehicle
ScanGauge Compact Size
Size 4.8"W x 1.4"H x 1"D
AUTOMATIC POWER CONTROL
Automatic delayed power-down after engine shutoff
Automatic power-up when engine is started
Manual power-up with delayed power-down via HOME key
EASY TO OPERATE
Simple on-screen operation
4 menu driven soft keys
User settable update rate (Slow, Normal and Fast)
A HOME key to quickly return to the start screen
USER SETTABLE BACKLIGHT
Display Colour, 7 Standard screen colours and a custom setting with 63 possible colours.
Backlight for night use
User settable Off, Low and High
Delivery & Returns
Delivery

99% of orders are dispatched from our Melbourne warehouse within 24 hours after payment is cleared. All orders are shipped with Australia Post e-Parcel with tracking and signature on delivery.
Express shipping is available at additional cost. For next day delivery, please ensure your postcode is within Australia post Next Day Delivery network.
Returns

We offer 30 days money back guarantee on all orders. If your item was purchased in error, or you've simply changed your mind, it may not be too late for a refund. The item must be returned in original re-saleable condition - Not opened, used or damaged and ready to be put back on the shelf.
Warranty

All products supplied by Fuel Economy Solutions Pty Ltd come with 12 months limited warranty unless otherwise specified. Warranty covers defects in materials and/or workmanship. If a defect arises and a valid claim is received, Fuel Economy Solutions Pty Ltd may at its option repair or replace the product.
Naturally the warranty cover does not extent to cover damage caused by normal wear and tear, accidents, misuse, lack of maintenance, neglect, natural disaster, or other external causes; to damage caused by operating the equipment in a manner outside that described in the instructions.
Reviews
Scan Guage KR

By:

Justin Commens

on 13 August 2018

Works well, gives me the readings I was chasing.




(4)
---
Others Also Bought
---
More From This Category