Description
Upgrade your SGII to the latest firmware AU version.
Note
When you purchase this service, you will have the latest firmware of the SGII. This service is recommended for customers who have their Scangauge units for more than a year or were adviced to upgrade to have one of the latest X-gauges that only works with recent firmware.
The latest firmware is 4.52AU (Australian Version)
To know your current firmware
From the Home Screen, push the lower right function button twice next to MORE. Next, use the upper left and right function buttons to cycle through the available options until you reach the screen titled Version.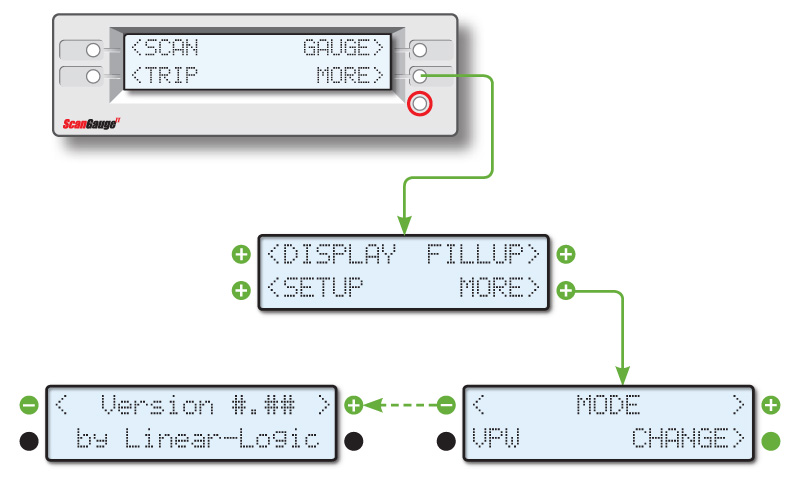 After you place your order, please send copy of your order number and SGII main unit to our Return Address as follows: Fuel Economy Solutions Pty Ltd - P.O Box 349, Batman 3058 Victoria
Current turnaround time is 1 week excluding shipping time.
Delivery & Returns
Delivery

99% of orders are dispatched from our Melbourne warehouse within 24 hours after payment is cleared. All orders are shipped with Australia Post e-Parcel with tracking and signature on delivery.
Express shipping is available at additional cost. For next day delivery, please ensure your postcode is within Australia post Next Day Delivery network.
Returns

We offer 30 days money back guarantee on all orders. If your item was purchased in error, or you've simply changed your mind, it may not be too late for a refund. The item must be returned in original re-saleable condition - Not opened, used or damaged and ready to be put back on the shelf.
Warranty

All products supplied by Fuel Economy Solutions Pty Ltd come with 12 months limited warranty unless otherwise specified. Warranty covers defects in materials and/or workmanship. If a defect arises and a valid claim is received, Fuel Economy Solutions Pty Ltd may at its option repair or replace the product.
Naturally the warranty cover does not extent to cover damage caused by normal wear and tear, accidents, misuse, lack of maintenance, neglect, natural disaster, or other external causes; to damage caused by operating the equipment in a manner outside that described in the instructions.
Reviews
ScanGauge II firmware upgrade

By:

Tom

on 19 August 2019

I had been using a ScanGauge II in my 2010 diesel Pajero for over 5 years & as I tow a caravan was monitoring the ATF temperature & water temperature along with voltage & turbo boost. I recently upgraded to a 2019 LC200 & needed to get the firmware upgraded to the latest version to do the same monitoring. Excellent turnaround time of less than a week. Gauge is easy to setup with LC200 codes. So many parameters to choose from - but its now happily monitoring ATF at the torque converter & ATF in the pan, as well as water temperature & voltage.




(5)
Great Service

By:

Barry

on 13 April 2019

I've had a ScanGauge2 for some time now & find it a very useful addition to my vehicle. The ability to monitor the many functions in the workings of modern vehicle makes it invaluable. When it began to have problems with the cable connections I contacted Fuel Economy Solutions & spoke to Boris. He was most helpful & suggested I return the gauge to carry out some tests in their workshop. The gauge was repaired quickly, returned within a very short time and the cost was very reasonable. Throughout this period there was feed back from the company letting me know the status of the repair. This was much appreciated. I would certainly recommend Fuel Economy Solutions & ScanGauge, the after sales service is exceptional.




(5)
Upgrade worth every cent

By:

Jeremy

on 13 November 2018

I finally upgraded 14 year old Scangauge II (yes, you read that right, 14 years old!). $50 and 3 day turnaround. X-Gauge customised by Boris to read my MY13 Toyota 86 GTS oil temp. Could not be happier. The SGII is awesome and small enough to give essential real time info in line of sight. Perfect.




(5)
Scangauge 2 Update

Quick turn around on firmware update to Scangauge 2 plus helpful and excellent to deal with,




(5)
Scangauge Firmware Upgrade

By:

Phil K

on 7 June 2018

Sent my 5 year old Scanguage II to get the firmware updated to be able access transmission temps in my Ranger. Received back within the week to country SA and is working great. Great service and fast shipping. Thanks




(5)
Scangauge upgrade

By:

Nick Gwiazda

on 7 May 2018

Great service, very quick turnaround time. Excellent communication.




(5)
Super fast service.

By:

Trevor Gray

on 4 April 2018

Put my old scan gauge in for a firmware update. Came back within a few days working perfectly. Needed update due to purchase of new vehicle. Great service.




(5)
---
Others Also Bought
---
More From This Category