Description
This unique Gen4 PLX Wideband AFR is designed to help you measure Wideband Air/Fuel Ratio in your car. It utilises the next generation in Bosch Wideband Air/Fuel Ratio sensor technology combined with a fast, accurate and durable PLX device module. The oxygen sensor is meticulously monitored every 2mS (488 times per second) to obtain peak performance, accuracy and reaction time.
Features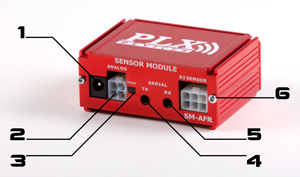 12V power input
4 prong analog clip
Termination jumper
Serial RX Plug (In)
Serial TX Plug (Out)
Sensor Input Clip
The AFR sensor module includes two analog outputs (Wideband 0-5V, and narrowband 0-1V) for interfacing with 3rd party devices and one digital serial output for interfacing with the DM-6 gauge and other PLX Gauges. The Wideband analog output is ideal for interfacing with aftermarket ECU's and data loggers. The narrowband output is ideal for stock narrowband oxygen sensor replacement where the simulated narrowband analog output is fed into your ECU to make it operate as if the stock narrowband oxygen sensor is still installed while running the PLC Wideband setup. All three outputs can be used simultaneously. Additional features include advanced soft start technology which prolongs the oxygen sensor's life and an aluminium enclosure for durability and reliability.
Compatible Gauges
DM100 OBDII Multigauge
DM-6 MultiGauge
Kiwi2 iMFD Adapter
Specifications
Dimensions: 52*75*28mm L X W X H
Technology: PLX critical response technology, Fast response PID
Accuracy: <0.1AFR (Petrol) Wideband, <0.2AFR (Petrol) Narrowband
Measurement Range: 10-20 AFR (Petrol), 0.68 - 1.36 lambda (Petrol), 0-100 O2 Sensors health, 0-1000 mS Reaction time, 9-20 Volts
Analog Output: Wideband Linear 0-5V, Narrowband 0-1V (Driving Current 20mA)
Operating Voltage: 9V-20V
Power Consumption: 20 Watts (Max), 13 Watts (Typical)
Power Supply Technology: High Efficiency Switching Swift Start Technology
Operating temperature: 0-85 Deg Celsius
Sensor: One Bosch LSU 4.9
Enclosure: Extruded Aluminium
Package Includes
SM-AFR main module
Bosch LSU 4.9 Wideband Sensor
O2 sensor harness 10ft
4ft power wire with 2.1mm connector
4ft Analog wires and connector with 4 terminals
1 serial cable
Terminal jumper
User manual
Delivery & Returns
Delivery

99% of orders are dispatched from our Melbourne warehouse within 24 hours after payment is cleared. All orders are shipped with Australia Post e-Parcel with tracking and signature on delivery.
Express shipping is available at additional cost. For next day delivery, please ensure your postcode is within Australia post Next Day Delivery network.
Returns

We offer 30 days money back guarantee on all orders. If your item was purchased in error, or you've simply changed your mind, it may not be too late for a refund. The item must be returned in original re-saleable condition - Not opened, used or damaged and ready to be put back on the shelf.
Warranty

All products supplied by Fuel Economy Solutions Pty Ltd come with 12 months limited warranty unless otherwise specified. Warranty covers defects in materials and/or workmanship. If a defect arises and a valid claim is received, Fuel Economy Solutions Pty Ltd may at its option repair or replace the product.
Naturally the warranty cover does not extent to cover damage caused by normal wear and tear, accidents, misuse, lack of maintenance, neglect, natural disaster, or other external causes; to damage caused by operating the equipment in a manner outside that described in the instructions.
Reviews
Be The First To Review This Product!
Help other Fuel Economy Solutions users shop smarter by writing reviews for products you have purchased.
---
You May Also Like
---
Others Also Bought
---
More From This Category