Description
Autohil AXC is an easy-to-use PC cable OBDII scan tool that can help you connect to your vehicle's engine data using your windows PC. You can diagnose engine trouble codes and know why CHECK ENGINE light is on. Monitor live engine data and parameters or perform other advanced functions. Autohil AXC scanner helps you connect to heaps of OBDII software available for Windows computers giving you more choices on how to use. Simply connect the scanner to OBDII port and PC and run with your preferred Software.
Diagnose Engine Trouble Codes DTCs
Get engine trouble code & its'meanings right on your computer's screen. Know why your engine light is on and turn it off.
[Reads & Clear DTCs]: Read Engine diagnostic trouble codes DTC and provide both the code and its' meaning and clear them
[Engine Live Data]: Customise and monitor real-time engine parameters.
[Freeze Frame Data]: Recorded system parameters values at the time when engine malfunction first occurred
[Readiness test]: Test and check status of engine emission control systems
[VIN]: Read vehicle info such as Vehicle Identification Number VIN, Calibration IDs CALID and Calibration Verification Number CVN
*This scan tool does not come with any free software. You can find free and paid software online depending on your requirements.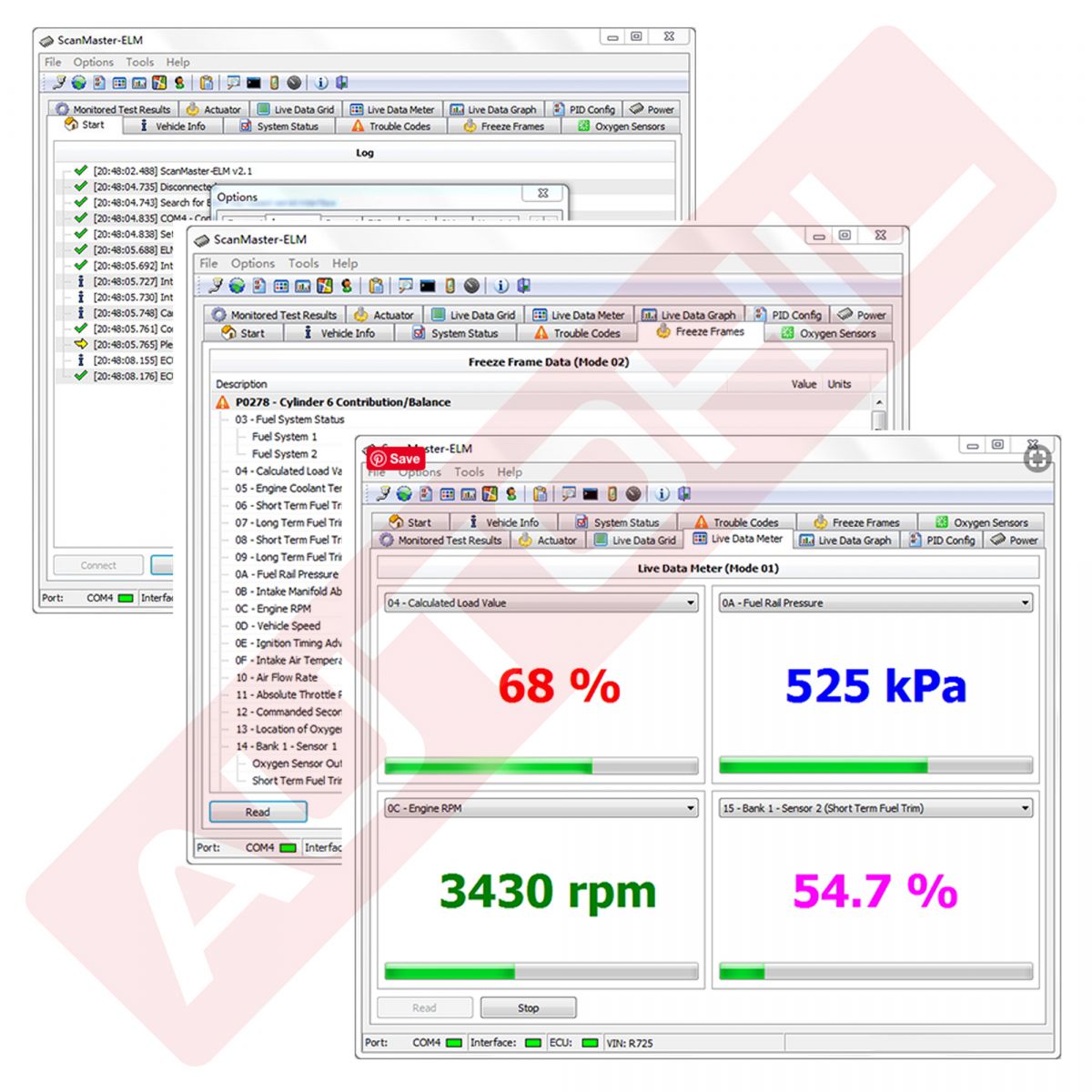 Specifications
Upgraded 25K80 Chip for faster more reliable readings
Communication: USB Cable
Control Chip: PICI8F25K80
Supported Systems: Windows
Operating Voltage: 9-16V
Working current:50mA
Standby current: 45mAH
Power Consumption: 0.75 Watts
Operating Temperature: -15 to 100
Dimensions: Width 4.4cm Length 8cm Heigth 2.5cm
Compatible OBDII Protocols
ISO 9141-2 (5 baud init, 10.4 kbaud)
ISO 14230-4 KWP (5 baud init, 10.4 kbaud)
ISO 14230-4 KWP (fast init, 10.4 kbaud)
ISO 15765-4 CAN (11 bit ID, 500 kbaud)
ISO 15765-4 CAN (29 bit ID, 500 kbaud)
ISO 15765-4 CAN (11 bit ID, 250 kbaud)
ISO 15765-4 CAN (29 bit ID, 250 kbaud)
SAE J1850 PWM (Found on many Ford vehicles)
SAE J1850 VPW (Found on many GM vehicles)
Delivery & Returns
Delivery

99% of orders are dispatched from our Melbourne warehouse within 24 hours after payment is cleared. All orders are shipped with Australia Post e-Parcel with tracking and signature on delivery.
Express shipping is available at additional cost. For next day delivery, please ensure your postcode is within Australia post Next Day Delivery network.
Returns

We offer 30 days money back guarantee on all orders. If your item was purchased in error, or you've simply changed your mind, it may not be too late for a refund. The item must be returned in original re-saleable condition - Not opened, used or damaged and ready to be put back on the shelf.
Warranty

All products supplied by Fuel Economy Solutions Pty Ltd come with 12 months limited warranty unless otherwise specified. Warranty covers defects in materials and/or workmanship. If a defect arises and a valid claim is received, Fuel Economy Solutions Pty Ltd may at its option repair or replace the product.
Naturally the warranty cover does not extent to cover damage caused by normal wear and tear, accidents, misuse, lack of maintenance, neglect, natural disaster, or other external causes; to damage caused by operating the equipment in a manner outside that described in the instructions.
Reviews
Autohil AXC ELMSCAN ELM327 OBD2 OBD Engine Scan To

Excellent seller!! Fast shipping!!




(5)
---
Others Also Bought
---
More From This Category