Autohil AX4 Bluetooth OBDII Scan Tool
Easy to Use iOS & Android Read and Clear Cods Live Data
Rated

5

/

5

based on

17

reviews.
Autohil AX4 is a simple and easy to use OBDII Bluetooth car scanner that can help you connect to your vehicle's data using your iOS, Android and Windows smart devices. You can diagnose engine trouble codes and know why CHECK ENGINE light is on. You can also customise real-time fuel economy and performance gauges and log engine, trip and fuel data.
The AX4 uses Bluetooth 4.0 connection which means it has better connection than most Bluetooth scanners on the market. Less connection interruption, and better speed.
You can connect to heaps of OBD2 Apps available on IOS or Google Store giving you more choices on how to use. Simply connect the AX4 scanner to OBD2 port and pair with your preferred App(s) or Software. With AX4 you don't have to pair via bluetooth settings on your smartphone, you can go straight to the app of choice and start using straightaway..
In addition, it has the On/Off switch so you can keep it plugged without worrying about battery drainage.
Use Your Smartphone To Get Engine Trouble Codes, Performance Gauges And Live Sensor Data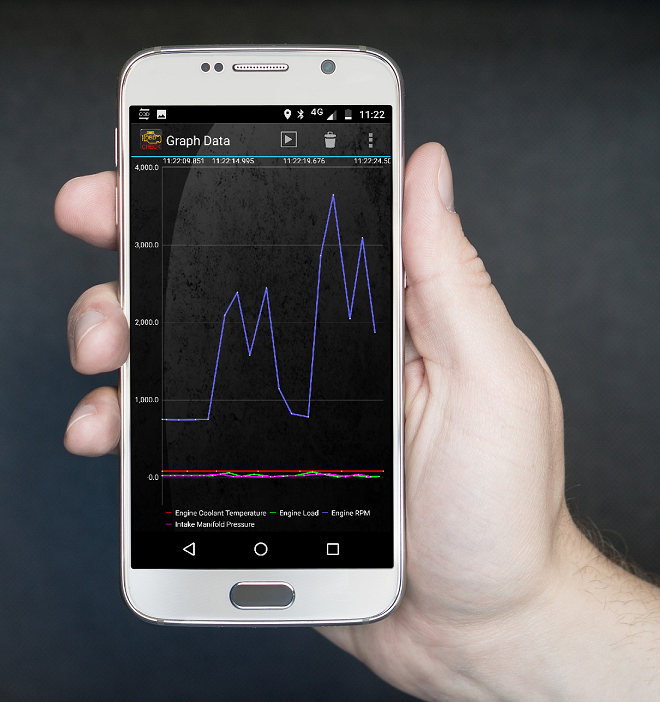 *picture from TORQUE PRO app
Scanner Benefits
With this simple and easy to use Bluetooth scan tool, you can reliably diagnose engine problems and monitor your car's real-time performance data using your Android devices.
This scanner will help you:
Improve your eco-driving with real-time fuel economy data
Customise a number of OBD-II performance gauges with the type of data you want
Diagnose your car and discover why your engine light is on and turn it off
---
Torque Performance App
Torque is a vehicle / car performance / diagnostics tool and scanner that uses an OBD II Bluetooth adapter to connect to your OBD2 engine management / ECU
Customise your own dashboard with the widgets / gauges you want!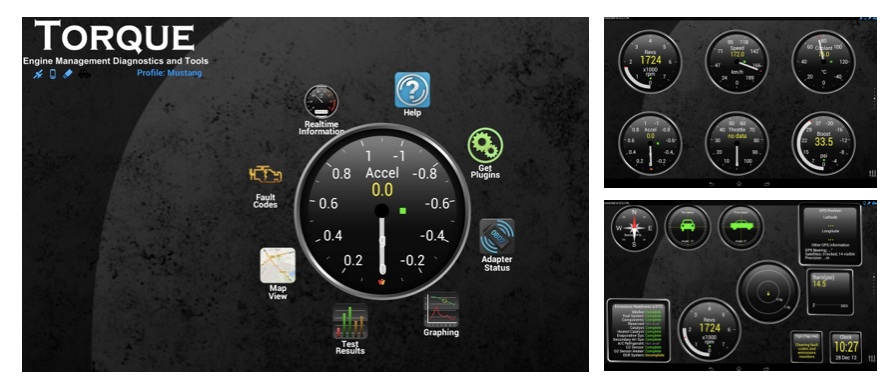 Note: App sold separately from Google Play store. Functions and gauges is car dependent and differ from one App to another.
Real-Time Performance Gauges On Your Smartphone
Pair your AX4 Bluetooth Scan Tool to your preferred performance App and see what your car is doing in real-time: get OBD2 fault codes, car performance gauges, live sensor data and more! Real-time performance data include:
| | | |
| --- | --- | --- |
| Engine RPM | Calculated Load Value | Coolant Temperature |
| Fuel System Status | Vehicle Speed | Short Term Fuel Trim |
| Long Term Fuel | Trim Intake Manifold | Pressure Timing Advance |
| Intake Air Temperature | Air Flow Rate | Absolute Throttle Position |
| Oxygen sensor voltages | Fuel System status | Fuel Pressure |
| Fuel Consumption | Trip data | Many others |
*OBDII sensor gauges are vehicle dependent.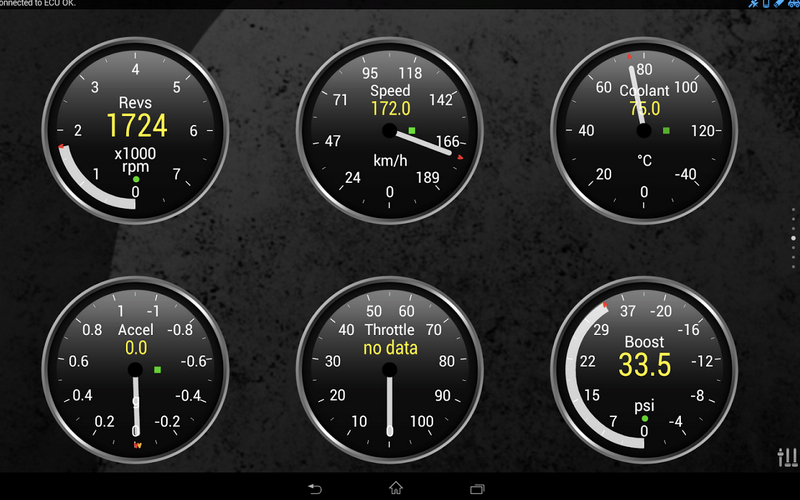 Diagnose Engine Trouble Codes DTCs
Get engine trouble code & its' meanings right on your smartphone's screen. Know why your engine light is on and turn it off.
[Reads & Clear DTCs]: Read Engine diagnostic trouble codes DTC and provide both the code and its' meaning and clear them
[Engine Live Data]: Customise and monitor real-time engine parameters.
[Freeze Frame Data]: Recorded system parameters values at the time when engine malfunction first occurred
[Readiness test]: Test and check status of engine emission control systems
[VIN]: Read vehicle info such as Vehicle Identification Number VIN, Calibration IDs CALID and Calibration Verification Number CVN
*Most Apps can only diagnose (read & clear) generic engine fault codes.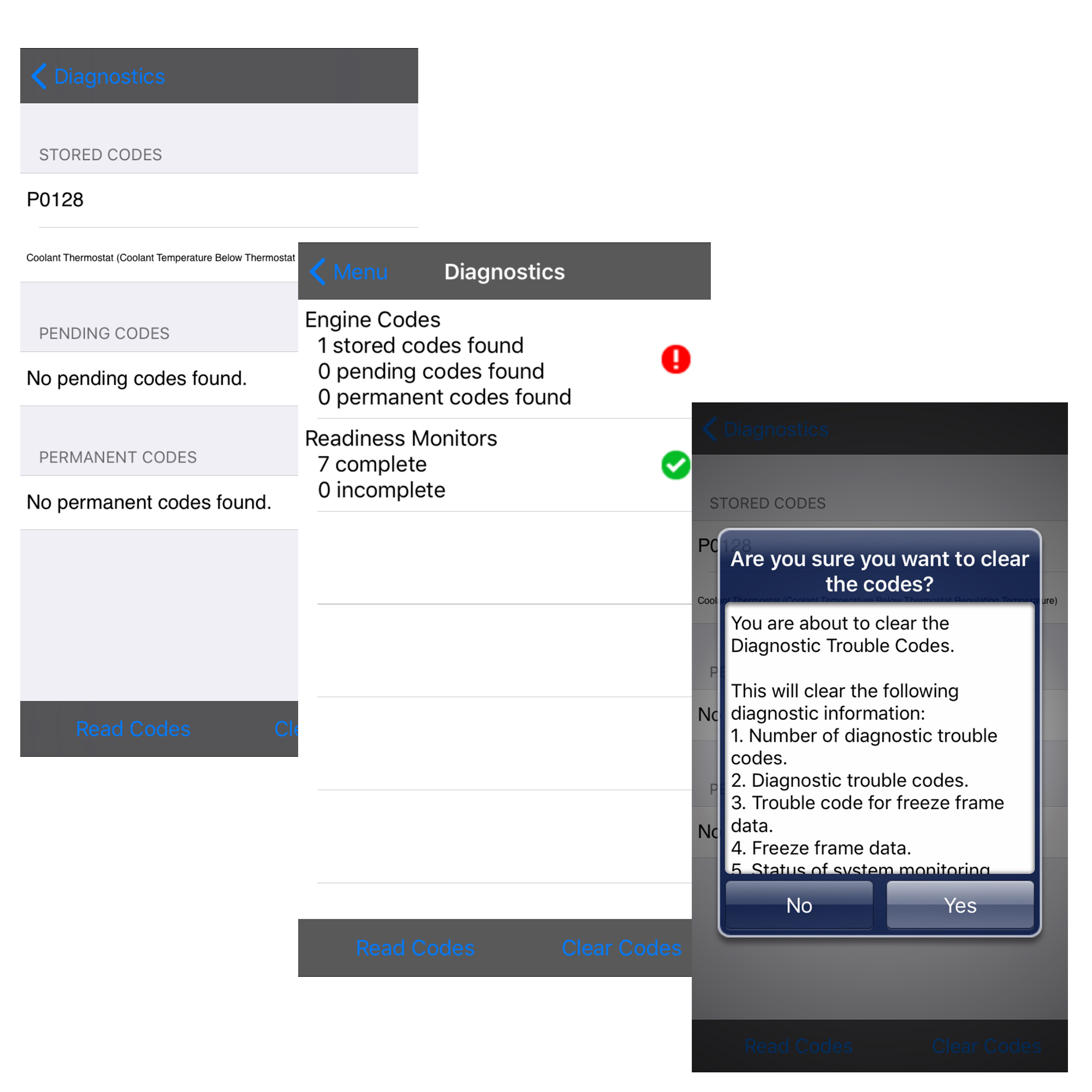 ---
Easy To Setup Scan Tool
Plug the Bluetooth scan tool into your vehicle's OBD-II port and pair with a performance App of your choice. We recommend TORQUE for Android or DashCommand for iOS.
Specifications
Upgraded 25K80 Chip for faster more reliable readings
Communication: Bluetooth 4.0
Control Chip: PICI8F25K80
Supported Systems: iOS / Android / Windows
Operating Voltage: 9-16V
Working current:50mA
Standby current: 45mAH
Power Consumption: 0.75 Watts
Operating Temperature: -15 to 100
Dimensions: Width 4.4cm Length 8cm Height 2.5cm
Compatible OBDII Protocols
ISO 9141-2 (5 baud init, 10.4 kbaud)
ISO 14230-4 KWP (5 baud init, 10.4 kbaud)
ISO 14230-4 KWP (fast init, 10.4 kbaud)
ISO 15765-4 CAN (11 bit ID, 500 kbaud)
ISO 15765-4 CAN (29 bit ID, 500 kbaud)
ISO 15765-4 CAN (11 bit ID, 250 kbaud)
ISO 15765-4 CAN (29 bit ID, 250 kbaud)
SAE J1850 PWM (Found on many Ford vehicles)
SAE J1850 VPW (Found on many GM vehicles)
| | |
| --- | --- |
| SKU | AUTOHIL-AX4 |
| Barcode # | 0793591058429 |
| Brand | Autohil |
| Shipping Weight | 0.2000kg |
| Shipping Width | 0.200m |
| Shipping Height | 0.100m |
| Shipping Length | 0.120m |
| Shipping Cubic | 0.002400000m3 |
| Unit Of Measure | ea |
AAA

By:

Phyllis Hunter

on 16 August 2021

Exactly what was described Very happy with it




(5)
Finally a perfect purchase for my car.

By:

Graham

on 18 March 2021

I was very very pleased to get this AX4, and it was so easy to use. I'm so happy I can now do so much I could not do before. I would recommend this AX4 to anybody who uses Bluetooth on their apple phone. Thanks Fuel Economy Solutions :)




(5)
Audi a5

By:

Chris

on 4 December 2020

Doesn't work with Audi A5 3lt turbo




(1)



www.fueleconomysolutions.com.au Response
The AX4 works fine with A5 so more seems like an unfortunate reasons you are not able to connect. Please contact our support on support@fueleconomysolutions.com.au so we can see what is happening there.
Good stuff

By:

DIMITRIOS

on 30 November 2020

Best obd2 Works perfectly




(5)
Obd ax4 scan tool Bluetooth

By:

Dave

on 9 December 2019

Works on all my cars Nissan Suzuki Toyota it actually found a fault code with the swift that a mechanic shop couldn't with there expensive scan tool works excellent with the car scanner app




(5)
Related Products
Product History