Description
Kiwi3 OBD2 bluetooth scan tool is the next generation of OBDII scanners which no longer requires cumbersome pairing configurations. Simply plug and launch your favourite app. Kiwi3 does the rest!. It is up to 4 times faster than the nearest competitor and uses ultra power allowing you to leave your device installed permanently in your vehicle.
OBD-II Smartphone Applications
Kiwi3 is a plug and play automotive tool that connects to the onboard diagnostic port (OBDII / CAN), retrieves engine data from your car's computer and wirelessly transmits to your smartphone, tablet, smartwatch or PC.
You can read and reset engine diagnostics trouble codes DTCs, monitor real-time performance gauges, measure power, torque and fuel efficiency. It can also be used a trip computer and GPS mapping with data overlay, data log and more!
OBD-II Engine Parameters
Depending on the app and the vehicle's make and model, the following parameters can be displayed:
Air Flow (MAF)
Air Intake Temperature
Catalyst Converter Temp
Coolant Temperature
Engine Timing
RPM
Distance travelled since code cleared
Oxygen Sensor Voltage
Fuel Level
Fuel Pressure
ECU Voltage
Intake Pressure (MAP)
Short Term Fuel Trim
Throttle Position
And More
​
Works with Multiple Apps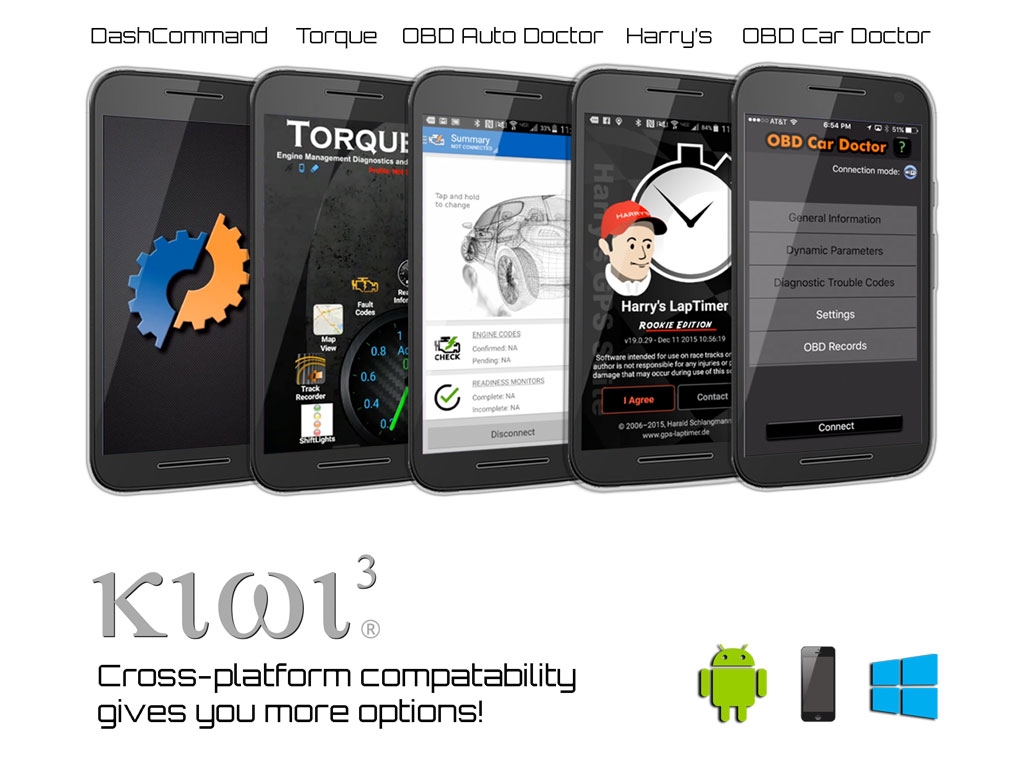 Kiwi3 supports a variety of OBD2 apps for every level of car enthusiast. Apps can be downloaded from iTunes App Store, Google Play Store and Windows App Store (Depending on Operating System Availability).
It is compatible with multiple apps like DashCommand, Torque, Harry's Laptimer, and many more!
Customers with Android Nougat 7, please use OBD Car Doctor or OBD Auto Doctor Apps
DashCommand App Features: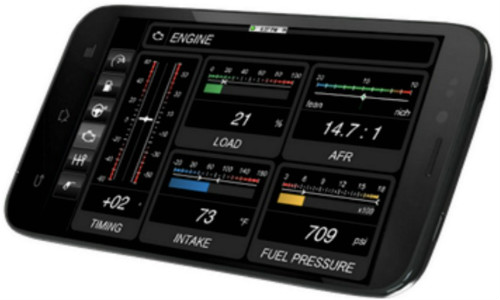 Operating system: IOS
Performance gauges including engine speed, corrected vehicle speed, open/closed loop, boost/vacuum combo, acceleration, braking and torque
Fuel economy including instant fuel economy, average fuel economy, distance to empty, time to empty, fuel level %, fuel remaining, fuel flow rate gauge
Engine gauges including timing/spark advance, engine coolant temp, intake air temp, ambient air temp, manifold absolute pressure, mass air flow, fuel trims (short and long term), percent engine load, catalyst temp, fuel pressure, air/fuel ratio
Trip computer that maintains stats for up to 5 trips and includes distance travelled, fuel consumed, average fuel economy, fuel cost, elapsed time, drive time, average carbon dioxide emission rate, total carbon dioxide emission, start date and time
Emission testing allowing you to read and clear diagnostic trouble codes and know your IM readiness status
Professional skid pad showing lateral and acceleration/braking Gs with min/max indicators
Much more
Torque - For the car enthusiast who wants it all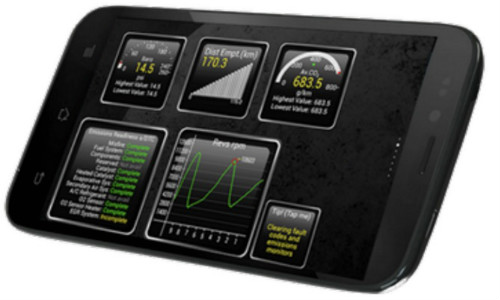 Operating system: Android 6
Free Features:
Customisable real-time gauges
Check engine light code reader and reset
Massive fault code database generic and manufacturer specific fault codes
Dynometer (Dyno) including horsepower and torque
Turbo boost feature for cars that support MAP and MAF sensors
Paid Features:
Support for more vehicles and ECU types
Cleaner user interface without ads
Alarms and warnings (for example if your coolant temperature goes over 120 C)
Video track recorder with real-time gauges and mapping overlay
Fully customisable dashboard, profiles and themes
AIDLS, API for this party apps
Horsepower, Torque, 0-60, and quarter mile tests
Data logging / graphing
Map / Track Views
Much more
OBD Car Doctor - Simple, Intuitive OBD tools and gauges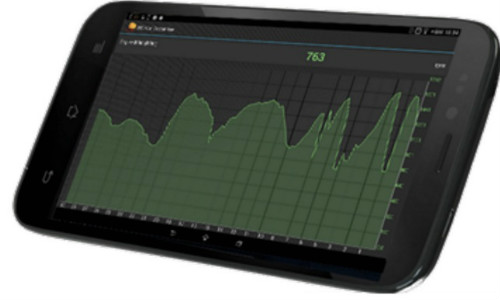 Operating system: Android 7 and iOS/iPhone
Free Features:
Check engine light code reader and reset
Real-time gauges and data including speed, rotation, temperature, and more
Fuel Economy Tracker
Paid Features:
Real-time parameter recoding
Multiple parameters display
Parameter recorder (with background mode)
View and sending recorded parameters traces
GPS support
Specifications
Supported OBDII Protocols: SAE J1850-PWM, SAE J1850-VPW, ISO 9141-2, ISO 14230-4 Slow/Fast, ISO 15765-4 CAN, SAE J2411-SWCAN, SAE J1939 250/500kbps
Interface: PLXKiwi V2.0 (Compatible with ELM327 Instruction Set)
Compatible cars: all OBD-II protocols
Operating Voltage: 8-25V DC
Operating Temperature: 0-85 Degrees Celsius
Power Consumption: 0.2Watt (Typical) , 0.05Watts (Sleep)
Dimensions:3.3 cm X 5.2cm X 2.4cm L/W/H
Wireless standard: Bluetooth V4.1
Compatible devices: IOS, Android, Mac, Windows, Linux
Delivery & Returns
Delivery

99% of orders are dispatched from our Melbourne warehouse within 24 hours after payment is cleared. All orders are shipped with Australia Post e-Parcel with tracking and signature on delivery.
Express shipping is available at additional cost. For next day delivery, please ensure your postcode is within Australia post Next Day Delivery network.
Returns

We offer 30 days money back guarantee on all orders. If your item was purchased in error, or you've simply changed your mind, it may not be too late for a refund. The item must be returned in original re-saleable condition - Not opened, used or damaged and ready to be put back on the shelf.
Warranty

All products supplied by Fuel Economy Solutions Pty Ltd come with 12 months limited warranty unless otherwise specified. Warranty covers defects in materials and/or workmanship. If a defect arises and a valid claim is received, Fuel Economy Solutions Pty Ltd may at its option repair or replace the product.
Naturally the warranty cover does not extent to cover damage caused by normal wear and tear, accidents, misuse, lack of maintenance, neglect, natural disaster, or other external causes; to damage caused by operating the equipment in a manner outside that described in the instructions.
Supported OBDII Protocols: SAE J1850-PWM, SAE J1850-VPW, ISO 9141-2, ISO 14230-4 Slow/Fast, ISO 15765-4 CAN, SAE J2411-SWCAN, SAE J1939 250/500kbps
Interface: PLXKiwi V2.0 (Compatible with ELM327 Instruction Set)
Compatible cars: all OBD-II protocols
Operating Voltage: 8-25V DC
Operating Temperature: 0-85 Degrees Celsius
Power Consumption: 0.2Watt (Typical) , 0.05Watts (Sleep)
Dimensions:3.3 cm X 5.2cm X 2.4cm L/W/H
Wireless standard: Bluetooth V4.1
Compatible devices: IOS, Android, Mac, Windows, Linux
Reviews
Kiwi 3 is great

By:

Holim

on 12 June 2017

awesome product in a small form factor, works great with my harrys lap timer to give me information about throttle and braking for when I go to the track. Also uses very little battery and works seemlessly with ios. definitely recommended!




(5)
PLX

By:

bob standen

on 18 January 2017

item as described ,fast shipping




(4)
PLX

By:

bob standen

on 18 January 2017

item as described ,fast shipping




(4)
---
You May Also Like
---
Others Also Bought
---
More From This Category